Key Takeaways
Yes, you can vacuum seal electronics. This will protect them against condensation and moisture damage, cushion them, and prevent corrosion
Vacuum sealing your electronics is a great way to protect them from damage caused by moisture and condensation
Vacuum sealing can also help to prevent corrosion on your electronics
You may have heard of vacuum-sealing food to keep it fresh, but did you know that you can also vacuum-seal electronics?
In this article, we'll explore the benefits of doing so, how to vacuum sealers work, and what items are best suited for Vacuum packing.
We'll also answer some frequently asked questions about this storage method to help you decide if it's right for you.
Can you vacuum seal electronics to protect them from damage?
Vacuum-sealing electronics is an effective way to protect them from damage.
The vacuum seal prevents moisture and other environmental factors from causing corrosion or other damage to the electronic components.
What are the benefits of vacuum-sealing electronics?
Vacuum-sealing electronics is a great way to prevent condensation and water damage.
By impregnating the equipment with a vacuum, you can also prevent corrosion. This is often the best solution for sensitive pieces of equipment.
Does vacuum sealing help protect against static and corrosion?
If you're looking for a way to protect your electronics from static and corrosion, vacuum sealing may be the answer.
By creating an airtight seal around the item, vacuum sealing helps to keep out dust, moisture, and other potential contaminants.
This can be especially beneficial if you live in an area with high humidity or are storing your electronics for an extended period of time.
What types of vacuum sealers are there for different purposes?
If you're looking to vacuum seal your electronics, there are a few different types of vacuum sealers you can use.
Handheld vacuum sealers are the most portable option, and they're great for sealing smaller items like cables and charging cords.
Manual vacuum sealers require a little more effort to use, but they're still relatively easy to operate.
Nozzle vacuum sealers are ideal for larger items like TVs and monitors, while chamber vacuum sealers can be used for both solid and liquid items.
Ultimately, the type of vacuum sealer you choose will depend on your needs and preferences.
How do you vacuum seal a phone or other device?
Vacuum sealing is a great way to keep your electronics safe from the elements.
By using a vacuum sealer, you can create a waterproof and airtight barrier around your devices that will protect them from moisture, dust, and other environmental hazards.
Vacuum sealing is also an effective way to keep food fresh, so it's perfect for those who are always on the go.
Can batteries be safely vacuum-sealed with devices?
Whether you're packing for a long trip or just trying to keep your electronics organized, vacuum sealing can be a great way to protect your devices. But can batteries be safely sealed with other devices?
Yes, as long as they are dry and securely packed. Batteries can leak if they are not properly sealed, so it's important to make sure that they are tightly wrapped and not damaged before sealing them.
If done correctly, vacuum sealing can prolong the life of your batteries and help keep your devices working like new ones.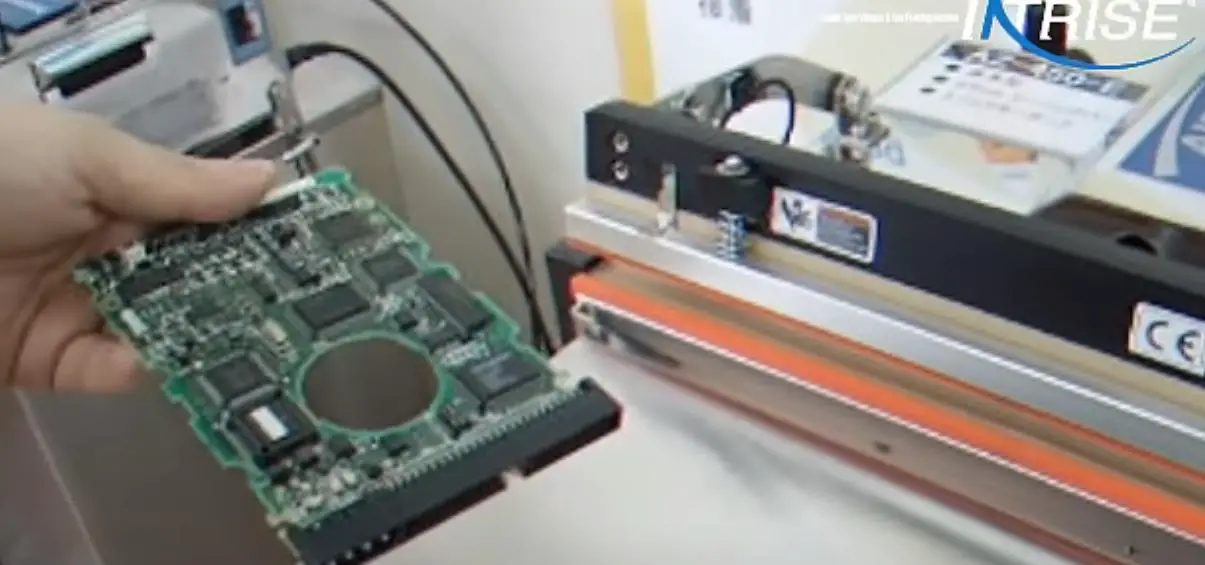 Are there any items that shouldn't be vacuum sealed?
Vacuum-sealing electronics is a great way to protect your devices from dust, moisture, and other environmental hazards. However, there are a few things you should keep in mind before vacuum sealing your electronics.
First, not all bags are reusable. So if you're planning on vacuum sealing multiple items, be sure to use bags that can be reused. Second, vacuum storage bags can be expensive. If you're on a budget, consider using zip-top plastic bags instead. Third, anaerobic bacteria will thrive in vacuum-sealed conditions. This means that some food will still spoil even when vacuum sealed.
With these things in mind, vacuum sealing your electronics is a great way to protect them from the elements and extend their lifespan.
How long does protection last after an item is sealed in a vacuum bag
Vacuum sealing is a great way to protect your electronics from the elements. The seal prevents air and moisture from getting in, which can damage your devices. But how long does this protection last?
The answer depends on how well the vacuum seal is made. If the seal is intact, then the protection will last as long as that seal lasts. However, if the seal is broken or damaged, then the protection will be lost.
Is it easy to remove air from a ziplock back without a machine?
You can easily remove air from a zip lock bag without a machine by pressing on the sides of the bag until most of the air has been displaced. This will help to create a better vacuum seal and prolong the life of your electronics.
Final Verdict
Yes, you can vacuum seal electronics. This will protect them against moisture damage and static buildup. Vacuum sealing your electronics can also help prolong their lifespan by keeping dust and other particles out.