One of the biggest enemies of most products (food and non-food items) is air. Air itself is an enemy, and there are a ton of other elements mixed with air which carry harmful parts for the product that you want to keep safe.
When you need a pack that will keep the inside product well for an extended period, you will go for a vacuum sealer.
So Vacuum sealers are undoubtedly one of the most beautiful inventions for your kitchen.
What is a Vacuum Sealer?
The name implies, a vacuum sealer literally "vacuums" air out of the bag before it is sealed, which hinders the growth of any bacteria or mold that can cause food to spoil.
This can extend the shelf life of your food, allowing you to store it for much longer periods of time.
If we want to keep it simple, then a vacuum sealer is a sack heat sealer which you will use for quality packing purposes.
Now, what is the one thing that you can do to make sure that the product is safe and healthy for a long period?
The answer is that you can simply make sure that the product is in an airtight place where air won't be able to access your product. Therefore, there is no chance that the product will get damaged.
Vacuum sealer works exactly in that fashion. With the help of a vacuum sealer, you do not need to worry about the lifetime of a product or a food.
10 Best Vacuum Sealer Under $100
1. FoodSaver V2244 Vacuum Sealing System with Starter Kit
The V2244 comes with several features that make it one of the more practical vacuum sealers today.
The package includes an accessory hose, a couple of seal bags, quart heat seal bags and a heat seal roll.
There is also a proprietary drip tray included that is dishwasher safe. You can remove this tray for easy cleaning.
Aside from a hose vacuum seal the V2244 also comes with an accessory port, and it uses the patented FoodSaver Vacuum Sealing System to produce the best possible results when you work with rolls and bags.
The V2244 also uses the latest technology so it runs quietly while sealing. This sealer also runs fast, taking only 10 seconds to produce an airtight seal.
The V2244 also scores points for being versatile, able to handle everything from veggies, fruits, fish and other food.
You can freeze food before sealing them in or you can cook the food, let them cool to room temperature and seal later.
While the V2244 automates the sealing process you can control how much air is drawn in: with a push of the seal you can stop the vacuuming right away.
Highlighted Features
Comes with Extra roll, bag and accessory hose
Works best with same company bags and rolls
Instant Seal model
CrushFree Instant Seal ensures food doesn't get crushed
Drip tray is removable
2. Seal-a-Meal Manual Vacuum Sealer
Compact homes tend to make people reconsider about getting a vacuum sealer or buying in bulk.
However, with a compact appliance like the Seal-a-Meal Manual Vacuum Sealer, you won't have to worry about your limited space and you can get more out of your perishables.
Ideal for those who are not yet ready to take a leap into vacuum sealing, the Seal-a-Meal Manual Vacuum Sealer is a basic sealing appliance that can get the job done.
If you're only going to vacuum seal occasionally and in small amounts, this can be a handy kitchen tool to have.
The best thing about this appliance is that it is perfectly small, so you don't have to worry about storage space. It's also very affordable, so there's really no harm in giving it a try.
Highlighted Features
Ideal for home use
Includes (4) quart bags
Quick horizontal sealing
Can fit 8 and 11 inches, quart and gallon size heat seal bags
Hands-free and sealing indicator lights for ease of use
Compact design measuring 6x17x9.3 inches
Easy hold and release system
Brilliant design and size
Completely hands-free
Enough lights to make your life easy
3. Nesco VS-02 Food Vacuum Sealer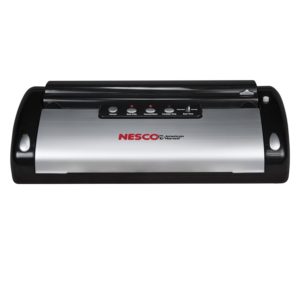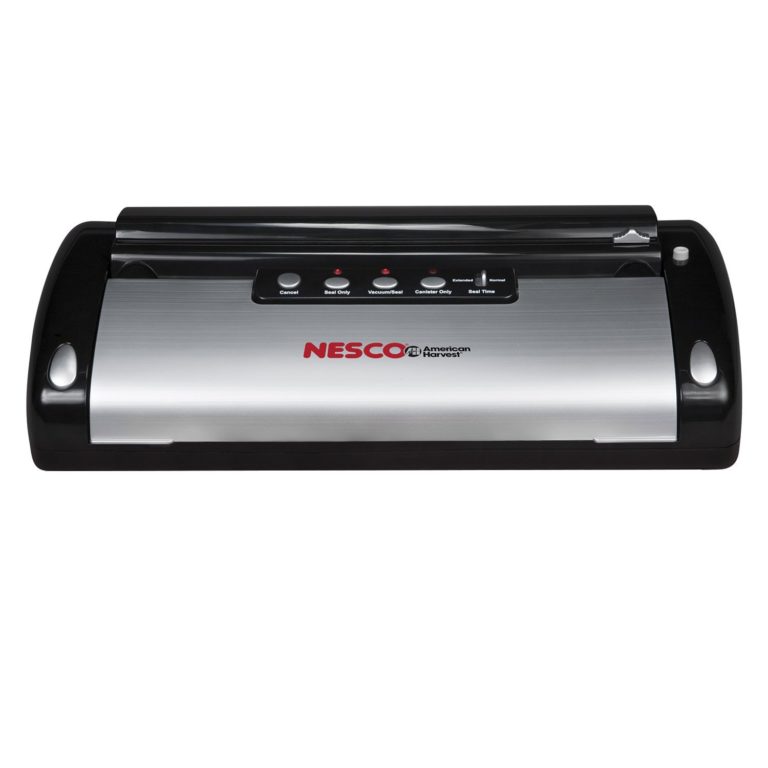 Offering great value for your money is the Nesco VS-02 Food Vacuum Sealer. With a powerful piston pump,
You are guaranteed that this appliance will provide ample vacuum strength to guarantee quality outcomes in vacuum sealing your perishables.
A more affordable option for a sturdier looking vacuum sealer is the Nesco VS-02. This product is loved for its functionality, as it vacuum seals perfectly and stores its own bags neatly in just one package.
Powered by a piston pump, you can count on a nice vacuum strength that will ensure longer shelf life for your perishables.
Easy to operate, you also have great control in the vacuuming action this product can do. With its Extended mode and an option to cancel the sealing process are available,
So you can ensure tighter sealing and avoid crushing products, depending on the item you're vacuum sealing.
Paired with Nesco's durable heat seal bags, you can be sure to get great results with the Nesco VS-02.
The one-touch operation helps and the auto turn off feature helps too. There is an external seal function which will help you to seal the foods at a good speed. Apart from the technical facts, the customer support along with the features go hand in hand. This is a brand that you will definitely be satisfied with for the long run.
Highlighted Features
Includes (2) 8.6×9.8" rolls, (5) 8.6×11.8" pre-cut bags, (5) 11×11.9" pre-cut bags
Easy one touch operation
Automatic shut off
Built in roll storage and bag cutter
Extended mode for longer sealing of wet and juicy items
Powerful piston pump for extra vacuum strength
Measures 11.8×18.3×5 inches
Drip tray system
Cool design to make your life easy
Works fine with all brand's bags and rolls
Easy release system
4. Useful UH-VS140 Vacuum Sealer Bag Sealing System
This great vacuum sealing system features fully automatic vacuum and sealing all in one without pump attachments.
You can protect food like chicken, beef, pork, fruits, vegetables, or anything perishable. This system will keep food for up to 5x longer than conventional storage.
This sealer has a powerful piston pump, which allows for varying degrees of intensity and duration while drawing air out of the bags.
It has a special button that allows for instant sealing, while also functioning as an instant stop mechanism for protecting your most delicate items.
It is designed with your convenience in mind as it has a vacuum chamber, recessed tray for catching food and liquids, and an efficient heat sealing strip.
It comes with five Pieces of 8.66″x11.81″ and bags that are 11″x15.75″. It also comes with an operation manual that will provide you with cleaning instructions and tips to keep your vacuum sealer in tip-top shape.
For the price, this vacuum sealer is a really great deal that you just can't beat. Your food will last so much longer and you'll get to use this efficient, reliable device. It's so simple to use and you'll enjoy having it in your home.
5. Rival FSFGSL0150-015 3 Step Vacuum Sealer w/ Bag Starter Kit
The Rival FSFGSL0150-015 3 Step Vacuum Sealer is a horizontally oriented, external sealer includes an open and release button that allows you to cancel the vacuum seal process at any time,
A vacuum through to help collect overflow liquids and includes a bag starter kit to provide you with the first set of bags to start using.
I would recommend the Rival FSFGSL0150-015 3 Step Vacuum Sealer to anyone who is looking for an inexpensive, yet effective sealer. With a vacuum through to catch any overflow liquid,
The Rival FSFGSL0150-015 3 Step Vacuum Sealer makes cleaning up as easy as can be. While this particular sealer tends to struggle a little when it comes to sealing liquids, if you follow the proper included instructions, vacuum sealing will be a breeze.
Highlighted Features:
Includes a bag starter kit so you can begin to vacuum seal as soon as you purchase the product.
Vacuum trough located inside of the sealer catches any overflow liquid which helps eliminate the potential of making a mess while sealing items with a heavy liquid base.
Easy to use process. Simply hold the lid down while the bag is in place until the hand's free indicator light shows.
Once the indicator light is on, you can let go. In just a few seconds, a second indicator light will come on and you simply hit the cancel button to release the lid and retrieve your newly sealed bag.
6. Nesco VS-01 Food Vacuum Sealer
The Nesco VS-01 Food Vacuum Sealer is a horizontally, external sealer that offers one-touch operation with an automatic shut off,
An easy seal only button that allows the user to reseal bags, and a seal only switch to prevent over vacuuming. All of those features are combined into one of the smallest and most compact vacuum sealers on the market.
I would recommend the Nesco VS-01 Food Vacuum Sealer for those who are looking for a vacuum sealer that can be used frequently but still won't break the bank.
The Nesco VS-01 Food Vacuum Sealer is able to be used with plenty of different types of bags which gives the user even more freedom.
At only 15 inches in length, the Nesco VS-01 Food Vacuum Sealer is perfect for anyone who wants a powerful vacuum sealer but doesn't want to devote that much space to it.
Highlighted Features:
One-touch operation that automatically shuts off when the bag is airtight. No need to wait and turn off the sealer on your own.
Features an easy seal only button that allows you to reseal any bag or create a new bag from a roll.
Seal the only switch prevents over vacuuming to help protect any delicate or fragile foods that you may decide to seal.
One of the smallest and most compact sealers on the market that makes it easy to leave out on your countertop for easier access.
7. FoodSaver FM2000-000 Vacuum Sealing System with Starter Bag/Roll Set
This food sealer unit is recommended for the beginners as it is manual.
It is manufactured to help with less bag wastage by reducing the space between the sealer and drip tray which is almost 40% can be saved from bag wastage compared to other models.
It has a removable drip tray which is dishwasher-friendly aiding in unnecessary steps in cleaning the mess. It is easy and quick to clean.
Furthermore, it seals professionally and has a 'store' setting which enables it to seal without giving the chance of popping it open.
However, FoodSaver FM2000-000 comes with quart bags, plastic rolls, gallon bags and also an accessory port and hose which you require sealing jars and cans.
It is compatible in such a way that you can save an awful lot of money in storing the foods. I think it is a great gadget within the perfect price range.
It is compact and sturdy but takes less space in storage which is always a plus point. It looks modern both in looks and performance.
It seals up to 11-inches wide. FoodSaver FM2000-000 does its work neatly, swiftly and does not leak the products out. It keeps the contents fresh, five times longer if not less.
Highlighted Features
Operation type Manual
Dishwasher Friendly
Seals up to 11-inches wide
8. Hamilton Beach 78213 Nutri Fresh Vacuum Sealer
Having a vacuum sealer at a good budget with 12 bags of starter set is a good combination to go for. The machine is there so that you can save money.
If you want to play around with vacuum sealers or just want to go for one for the experiment purposes, this is the one that you should target.
The product is not that popular as it is still new but the reviews that we heard from customers are very positive. The product comes with a bag and it prevents freezer burn which is a great feature to have.
Highlighted Features
A very budget model to go for
Easy to use
The machine locks air out to keep food fresh
Super simple mechanism
9. Ivation Vacuum Sealer VSP180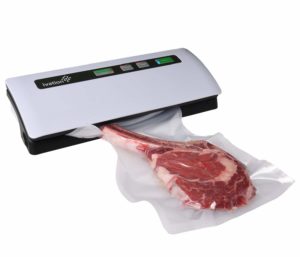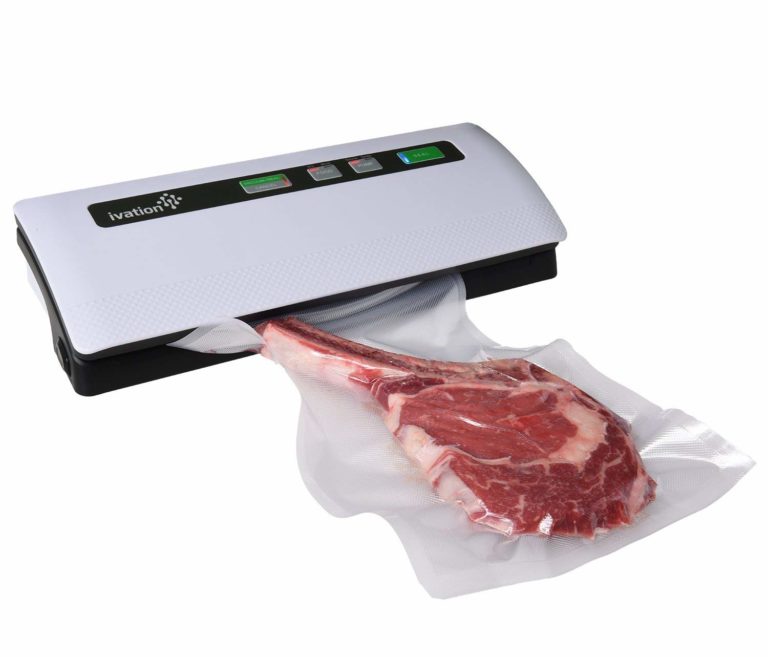 There are two basic versions available for people to go to. One is the black version and another is the white one.
There is not much difference between these two versions in terms of the product features. You will have to choose one based on the color solely. The product is good if you think about the combinations of the feature along with the price.
The brand Ivation does not sell the product on their own but the customer support is good enough to be satisfied with. It comes with a starter kit and a wide bag. If you are looking for that perfect combination of low price and good features, this is probably the one that you should check out.
Highlighted Features
Great for domestic use
Especially recommended for Sous Vide cooking
Very lightweight
Big in terms of size (12 inches)
10. FoodSaver Game Saver Outdoorsman Vacuum Sealing System
The GameSaver Outdoorsman is a manually operated vacuum sealer. It is not as fancy as other sealers but it gets the job done as far as keeping food airtight is concerned.
Once you have filed a bag with food, position the open end in the GameSaver sealing channel. Lock the lid, tap the Vacuum and Ordinary Seal button and you've got a sealed bag.
Ideal for food and game, each airtight bag can preserve the content for several months up to 3 years. Capable of 40 seals consecutively, the GameSaver is ideal not just for fish and game but any food you want to preserve.
The compact size and ease of use make the GameSaver a good choice if you're looking for a long-term solution to keeping food fresh.
The GameSaver uses special heat seal bags and rolls, all of which are made of durable, multi-ply materials that keep moisture and oxygen out and makes certain air is removed.
With the way the GameSaver has been designed, common food storage problems like freezer burn won't be a hindrance. Last but not the least, this vacuum sealer has a large sealing strip for superior sealing.
Highlighted Features
2 different versions available
Easy manual operation
Minimizes bag wastage
Has an easy lock latch closure
3 Best Vacuum Sealer Under $200
1. FoodSaver V3240 Automatic Vacuum Sealing System – Best Vacuum Packing Machine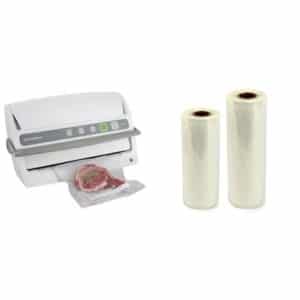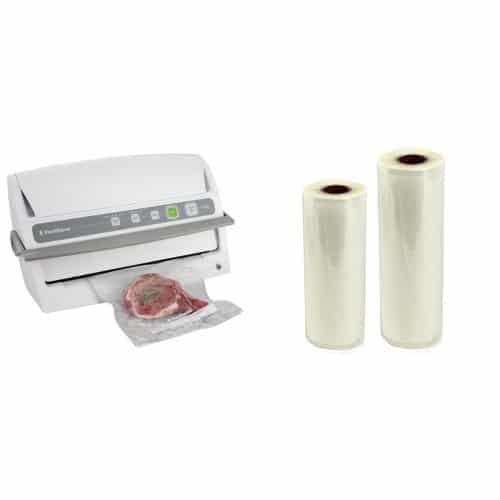 The V3240 is equipped with several features that set it apart from the other vacuum sealers sold today.
One of its most impressive features is its speed settings, and with options for dry and moist food, you'll be able to seal them properly without worrying about what happens to the content.
You won't find a lot of vacuum sealers that adjust sealing according to food quality, so this is a plus.
A roll holder is included so the V3240 is easier to use, and the sealing strip is extra wide, providing more heat so sealing is airtight and secure. It is this type of sealing that ensures the freshness of the food so they don't get spoiled.
Another point that needs to be pointed out is the drip tray is dishwasher safe so it's easy to clean.
The V3240 hose allows you to use other FoodSaver canisters and containers for sealing, and it's built to last as well. If you're the type who likes to grill a lot of food and store them for later consumption, the V3240 will be just right.
Highlighted Features
Crush Free Instant Seal prevents delicate food from being damaged
Comes with dry and moist food settings
Two vacuum speeds and manual operation
Roll and heat seal bags included
Works for both moist and dry foods
Comes with a cool starter kit
2. FoodSaver 4840 2-in-1 Automatic Vacuum Sealing System
Again, this is a premium product! If you are looking for a premium product from a great brand then this is the one that you should select.
The price is one of the highest ones in this market but the features are worthy of the price. Not many people actually care about the look of their vacuum sealers but if you are one of those small numbers of people, you will like this one.
The built-in handheld sealer is a great addition to the project. The starter kit along with the heat seal and zipper bag comes in handy at times.
Look like an elegant and simple, this machine has an incredible feature of 2-in-1 vacuum sealing. It used for paper bags, boxes, and containers. Unlike many other vacuum sealing machines, it can be utilized on zip bags as well.
The smart heat seal makes the process faster and automatic function. Additionally, it has an extra sealing strip. This feature provides an additional secure airtight seal, and it is wider than other ones. The machine also has a quick marinating feature. This FoodSaver 4840 weighs only 10 pounds; perfect for carrying around.
Highlighted Features
2-in-1 Sealing System
Built-in handheld sealer seals zipper bags, canisters, containers and marinates food
Fully-automatic operation
Moist/Dry food settings for optimal sealing
PulseVac™ button allows you to seal foods without crushing them
Convenient roll storage and bag cutter
Pull-out drip tray drawer with removable and dishwasher-safe drip tray
Extra-wide sealing strip creates a secure air-tight seal
One-touch marinate and accessory modes
3. FoodSaver V4440 2-in-1 Automatic Vacuum Sealing System
The product comes with a bonus handheld sealer and a starter kit which is pretty common among the Food Saver products. We said about this brand so much that there is nothing much to left about. This is a good product too (we are not being biased, promise!).
The product is a bit pricey but the features support the price. The handheld set is retractable and the machine is very convenient to use. You will definitely have a wonderful experience with this product.
This innovative appliance helps you do two things at once. It's very useful for both operations, so there's no worry about partially vacuumed bags or air leaking into bags.
What makes the 2-in-1 operation beneficial is the fact that users need not have varied foods saving kitchen appliances. This FoodSaver appliance operates in fully automatic mode.
All you have to do is add food to your FoodSaver Heat-Seal bag and insert the open end into the front of the machine. The appliance will vacuum and seal the bag automatically.
With this countertop vacuum sealer, you also get a retractable sealer. This accessory removes air from all FoodSaver bags, canisters, and containers.
Highlighted Features
The licensed FoodSaver Heat-Seal technology preserves food well in tightly sealed vacuum bags
2-in-1 food preservation appliance that is also quite versatile
Automatic vacuum sealing operation increases ease of use vacuum bags and containers
Packaged and delivered with a sample of assorted sized bags
Space saving design
Best Vacuum Sealer For The Money
1. FoodSaver GameSaver Deluxe Vacuum Sealing Kit – Best Food Vacuum Sealer
This is one of the easiest vacuum sealers to deal with and that is why we consider this as the perfect vacuum sealer.
This is a comparatively newer model from the brand than the other ones out there. The machine is super easy and it can handle both moist and dry foods with ease. The instant seal stops the vacuum process for better management which is good too.
This was made to be a sturdy product. It has a strong vacuum suction for removing air bubbles. It is more powerful to seal the freshest and biggest portions of food. The one-touch controls make the operation a snap.
The sealing strip is wide for larger portions of food. The sealing strip creates a strong airtight seal. So no liquid or air can escape. This food saver is a little smaller than others. It is compact and lightweight.
But it carries a lot of power. It can be used anywhere. It won't move around like some other products do when sealing larger bags of food.
This product can seal a lot of bags before it wears down.
Like other FoodSaver products, this one has the patented removable drip tray for easy cleanup. Its hands-free design makes it easy for anyone to use.
Highlighted Features
2 Seal Levels
2 Vacuum Speeds
Accessory Port
Roll Storage and Cutter
CrushFree Instant Seal
Easy Lock Latch
2. Weston Pro-2300 Stainless Steel Vacuum Sealer
Extensively tested prior to release, the Pro-2300 is a full-featured vacuum sealer that keeps food fresh 6 times longer compared to regular food storage.
One-touch operation simplifies sealing, but if you need to do some custom sealing, there's a manual mode available.
The double-piston vacuum pump gives the Pro-2300 power and its cord storage keeps everything tidy. The unit is made from solid materials and is meant for heavy-duty use.
Versatile and durable enough for game preservation, it is also suitable for storing frozen food, vegetables and more.
The 935 watt powered Pro-2300 is fitted with a long seal bar so you can seal foods and other stuff in an airtight manner. For all its power the Pro-2300 is still easy to use and most of the time you just tap the button to get started.
But if you are handling delicate food, use the manual control to apply the right amount of pressure.
Another thing you will notice with the Pro-2300 is it comes with a transparent lid so you can align the bag correctly, and the LED lights help you keep track of the sealing procedure.
Highlighted Features
Auto mode, one-touch operation or manual mode available
Has LED lights
Capable of sealing 15 inch wide bags
Comes with a fan for cooling the motor
3. FoodSaver Premium 2-In-1 Automatic Bag-Making Vacuum Sealing System
The FoodSaver Premium is designed to maintain food freshness for up to 5 times longer than conventional storage methods.
With the press of a button, the FoodSaver Premium dispenses and rewinds materials for bags.
Once you've got a FoodSaver bag ready, the system automatically senses it and starts the vacuum sealing procedure.
The patented FoodSaver Premium sealing process eliminates air and applies a unique heat sealing process so freshness is retained and air doesn't get in. The unit also comes with a Marinator so you can marinate in just minutes.
This is made possible by its Rapid Marinate Mode which cuts down the marinating time without compromising quality.
The FoodSaver Premium offers the best that handheld and heat seal vacuums have to offer, and compared to previous versions there is a lot of improvement. The sealer is not just effective but fast as it only takes 10 seconds to remove air from each bag.
Aside from being quick, the FoodSaver Premium is powerful and doesn't encounter any difficulty when it comes to sealing bags.
The most convenient feature is its auto sealing: just place the edge of the bag on the unit and the system goes to work. Throw in the attachments for FoodSaver containers and it's the complete package.
Highlighted Features
Automatic bag dispense & rewind
Air-tight heat-seal
Indicator lights
One-touch marinate mode
4. FoodSaver v3860 Automatic 2-Speed Vacuum Sealer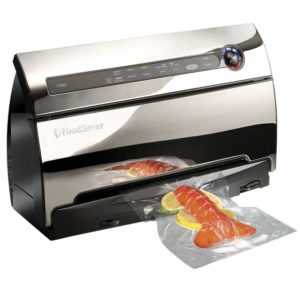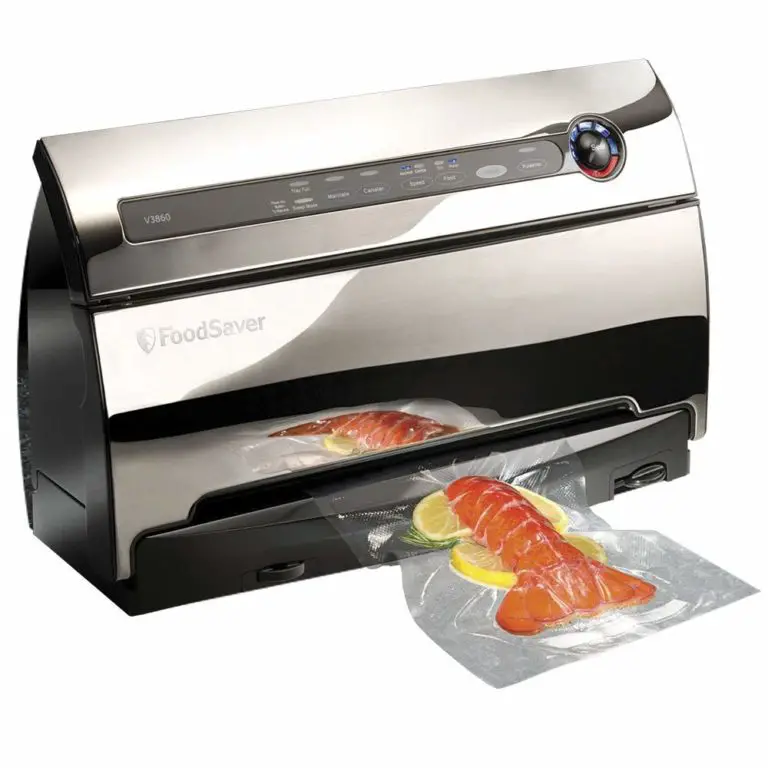 Sporting a black chrome look, the v3860 uses SmartSeal Technology for quick and precise sealing.
You just need to set a FoodSaver bag and the v3860 will do the rest. With the v3860 you're given the option of using moist or dry settings depending on the food you're going to store.
As you may already know, moist and dry foods need to be handled differently and it's good to know the v3860 takes that into account.
The v3860 also comes with a bag opener, cutter, roll holder and a retractable accessory hose so everything you need to seal bags is here. There is also a liquid detection built in so you don't have to be concerned about spillage.
If you're looking to add flavor to food, just use the Marinate mode and it will marinate in just a few minutes.
You can use canisters or airtight bags to keep food fresh, and it is also compatible with sealers and lids so wine and other food are well preserved.
The design is deliberately vertical so it saves space, and the two vacuum speeds add the finishing touch to it.
Highlighted Features
Two sealing options for dry and moist food
Sealing strip is extra wide
Marinate Mode for quick marinating
Canister Mode for canister air vacuuming
No products found.
5. VacMaster VP215 Chamber Vacuum Sealer
With its ¼ HP rotary oil pump, the VP215 is built for heavy-duty use and has enough power to meet the needs of anglers, delicatessens, and small diners.
When you use the VP215 for sealing, its vacuum pouch is set within the chamber.
When the lid is shut, air is removed from the chamber, ensuring air pressure on the pouch's exterior and interior are even. The design also ensures liquids remain in the pouch. The pouch is 100% sealed and air is brought into the chamber again.
The VP215 has no problem sealing powders, vegetables, fruits, meats and other foods, and you can also use it to dry pack mason jars. The unit is built from stainless steel, and at 20 x 14 x 15 inches, gives you an idea of how much it can handle.
Once the chamber has removed the air out of the bag, it makes a sound to notify you. The lid is transparent so you have a clear view of what is happening, and you will see how quick the whole process is.
Highlighted Features
1/4 HP rotary oil pump for heavy duty work
Each bag is given a double seal to prolong its life
Runs quietly
Powerful enough to be used in catering, restaurants, and fishing
6. GameSaver Bronze Vacuum Sealer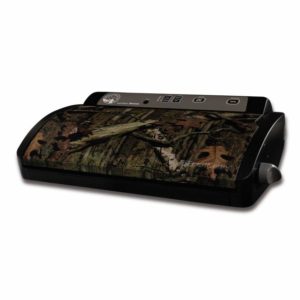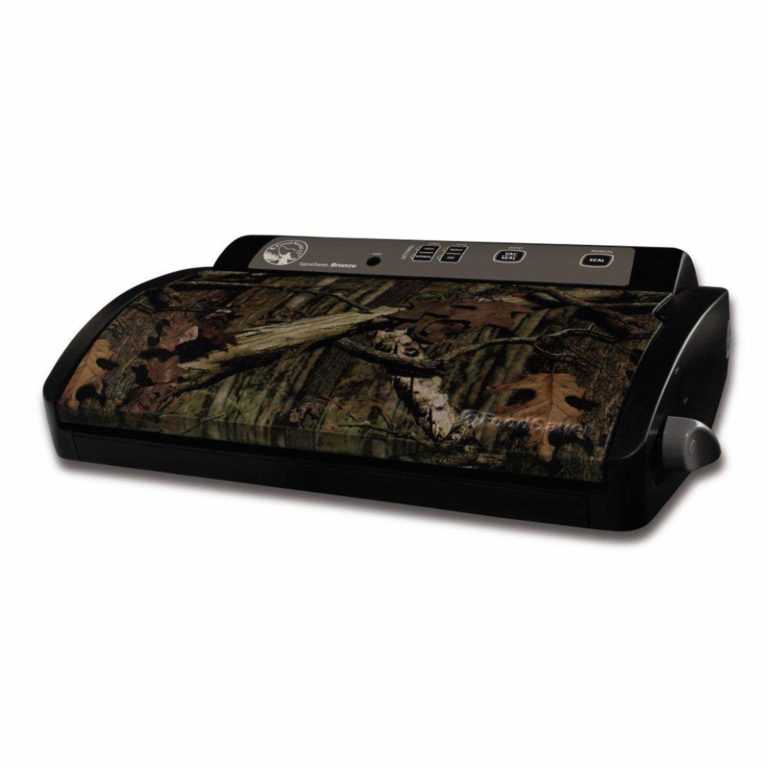 Want a unique looking kitchen appliance? The GameSaver Bronze Vacuum Sealer comes in a camo print as a homage to its hunting and fishing target market.
Like other GameSaver products, the GameSaver Bronze Vacuum Sealer is a more robust option for a home use sealing appliance.
Easy to use with touchpad controls that will let you seal and vacuum/seal, you're easily in control of how to use this powerful device to prolong your perishables' shelf life.
While this unit can be a bit more expensive.
This guarantees the item's long life, ensuring that the GameSaver Bronze is a sound investment for your home.
Highlighted Features
Ideal for home and outdoor use
Includes (2) rolls and (10) pre-cut bags
Easy, touchpad controls
Built-in roll storage and bag cutter
Removable, dishwasher safe drip tray
Moist/dry food settings
Accessory for sealing canisters and containers
Marinates in minutes
Compact design measuring 20.7×15.3×6.7 inches
Can be flipped vertically for easier storage
Camo print design
7. Waring Pro PVS1000 Pistol Vac Professional Vacuum Sealer System
Don't have enough space for countertop sealing appliances? Then the Waring Pro PVS1000 is a good option for you!
This pistol type, handheld food sealer is a portable device that you can use to vacuum seal anything, anywhere.
Small in size but huge in performance, the Waring Pro PVS1000 is a handy food sealer that you can easily lug around.
It may be minuscule, but it gets the job done in vacuum sealing perishables. It can seal bags and jars wonderfully, making it a nice alternative to countertop sealers if you don't have the kitchen space.
A fully charged battery can seal up to 20 bags, which is already a lot, so it is a pretty heavy duty product.
It's also quite affordable, so if you're in the market for a kitchen tool that won't cause you storage issues and compromise sealing quality, this could be a great option for you.
Highlighted Features
Ideal for light uses
Includes (12) gallon bags and (12) qt bags
Powered by rechargeable NiMH battery with charging stand
Small sized measuring 10.3×4.2×11.8 inches
What Should I Look?
Portability
Will you use the vacuum sealer at home or will you take it with you when you go fishing? If it's for home use, portability won't be an issue, though you want to make sure the unit doesn't take too much countertop space.
The benefit of countertop models is they're designed for use with all kinds of fruits, veggies and food and drinks.
Handheld vacuum sealers are more portable, but the power and capacity may be limited.
Most handheld types run on batteries and use zip lock pouches instead of bags. The choice is up to you, just make certain you buy from a quality manufacturer.
You definitely do not want to go for a vacuum sealer which will be stored in one corner of your room and never moved. Mobility is something that we all want from everything that we use.
If the things that we are using is technical then the demand is even more. You should always go for a vacuum sealer that is simple, light and easily movable from one place to the other. We do not consider a vacuum sealer as the top vacuum sealer unless the machine is easy to move and store. You should think that way too. (Source)
Orientation
Vacuum sealers are either flat or vertical. Those that are vertically oriented let you use the sealer with canister attachments for jars.
The flat vacuum sealers, on the other hand, allow you to use different types of bags, and you just need to adjust the tray to accommodate various types of bag rolls.
If you're going to use a flat Vacuum Packing Machine for liquid storage, make sure it's designed for such a purpose.
Sealing Design
Every vacuum sealer removes air from a jar, pouch or bag by changing the air pressure prior to sealing the bag via heat.
Some of these sealers run manually while others can sense when there is a bag and automatically start the sealing procedure. Read the product description and learn how the vacuum sealer works to keep air out and ensuring the content is fresh.
By undertaking how it works you won't be misled or confused by technical jargon.
Operation
The best Vacuum Packing Machine have one-touch capabilities: insert the bag's open end, press a button and the sealing starts.
If you're working with delicate goods and want more control over the pressure, look for those with manual control options so you determine how much pressure is applied.
Vacuum sealers work best with their patented bags, but most of them are compatible with generic bags, but you need to read the product description and customer feedback before trying a generic bag.
Thickness of Bags
We are talking about the machines that can seal the bags. If you buy a machine that cannot seal bags of all sizes (from thin to ultra thick), you will have to go to a different machine for another type of bag.
This will be a complete waste of money and therefore, make sure that you do not fall into this trap. Buy one machine which can serve you in the best possible way with all types of services. That will be your right vacuum sealer. The product that is good at one end and does not have a feature for the other end is never good enough. Make sure that you do not go into that trap.
Overheating Issues
Think about this for a second. Overheating is a common problem with most typical consume electric products apart from your oven because that is meant to get heated.
If you really think about it, you will find out that most of those do not create any problem due to overheating. Well, vacuum sealers are different and if they are overheated, they will not function properly which is terrible. Therefore, you have to select a brand that does not get overheated and at the same time, the brand has to be something that is trusted able.
If you are buying one of those unknown brands, there is a high chance that you will have to face the overheating problem with the machine. Also, make sure that you do not overuse a machine as that is another reason that why they get overheated.
In short, you will have to make sure that you are buying a device that will not overheat. Make sure that you read customer reviews while you are buying the vacuum sealers as that is the best indicator of quality.
Controlling
There are vacuum sealers out there which are so tough to handle that you lose the interest of using these machines after a while.
Think about that from the beginning and go for a vacuum sealer which is easy to use. You do not need those complex buttons and settings in a vacuum sealer. They are simple and their task is simple too.
Therefore, a good idea is to choose a simple one. Also, it was found from research that the simple vacuum sealers last longer than the ones with complex and super advanced features.
Attachments
Most vacuum sealers do not come with any attachments but even though, it is a good idea to look for the attachments. If you can manage to get some, that will be good and do not worry if you don't manage to get some. Most people don't!
Types of Vacuum Sealer
There are different types of vacuum sealers and each has their own advantages and disadvantages.
We will make sure that you get the most out of the types and therefore, it is important that you know about them. The best consumers are those who know about the products that they are planning to buy. Let's check the vacuum sealer types.
Nozzle Sealer
The first one that we have on our list is the most common vacuum sealer type of all times. This is the type that we see everywhere in the malls and in online. This is cheap and this is really handy at times in those tough moments.
The nozzle sealers are also known as the snorkel sealers and they are definitely one of the top vacuum sealer types. The machines provide quick solutions and you have a wide span of control over everything if you are going with the nozzle sealers.
If we think about the advantages, the prime one is the ease of access. It is super easy to use and manage this machine. The machine will be used only as a sealer if you need it to be like that. This feature also helps in many situations.
Apart from these benefits, the nozzle sealers can easily seal any size of sack which is another great advantage that you do not find in most cases. Combining all these benefits, the nozzle sealers are definitely the best in business.
Chamber Sealer
The next in our list is the chamber sealers. It is pretty unlikely that you will be familiar with the Chamber sealers as they are not that much common among people. These are mostly used by professionals in medical or similar types of services.
So if you are not someone from one of those services then it is hard for you to understand the concept of chamber sealer. Though it is good to know that the Chamber sealers are here if you are ever in need of this type.
Now, what are the advantages if you go with the Chamber sealers? The prime advantage is that you get an awesome vacuum rate. At the same time, as these machines are bigger in terms of size, you will be able to get a big seal while using these machines.
Apart from these benefits, usage of these machines are pretty easy and you do not need any special skill to be able to vacuum using a chamber sealer. The electric outlet does not take much of a charge which will help in keeping your electricity bill low.
There are some disadvantages of using a Chamber vacuum sealer and it is important that you know about those too. The first disadvantage is definitely the cost factor. The cost of chamber sealers is way more than the nozzle types.
Yes, they come with some added benefits but for a lot of people, the benefits are not worth it. The chamber sealers are a bit slower in some cases if you are working with diverse sealing categories. You have to take that into consideration if you are planning to go for a chamber sealer.
What Can I store Using Vacuum Sealers?
A lot of people (almost everybody) think that a vacuum sealer is only for your food storage needs and there is no usage apart from this one. Well, as you already understood, the concept is not always right. There is a different usage of a good vacuum sealer and that is the topic of this section. Let's have a look at the usages of a vacuum sealer for you.
Food Storage
Obviously, food storage is the prime and one of the (well not one of them, actually the most) major things that you can do with your vacuum sealer. The reason that people look for the perfect vacuum sealer is that they want their foods to be kept safe.
If you are dealing with frozen products, you must use a vacuum sealer to make sure that your product is durable and can go for a long time. Who does not want to have fresh foods? Vacuum sealers help you do that and you can enjoy fresh peas, broccoli, and strawberries every single time if you use a quality vacuum sealer.
A good thing is that vacuum sealers allow you to store foods whether you have cut it or it is intact. You know that story about grandmothers? Grandmothers always tell that if you have cut an apple, you need to eat the whole of it at once because if you keep it for long enough, the apple will get rotten. Well, if you have a vacuum sealer, you can answer back to your grandmother (gently of course).
There are a lot of angles to view these things. Some people just use vacuum sealers because they do not want to go to the market every other day, some use it to make sure that their foods are healthy inside their fridge and some do it for higher level purposes such as making jam, jelly with mango in winter (which is not the season of mango) and so on. (Source)
Resealing Wine, Oil or Vinegar
This is another popular reason that why many people use vacuum sealers. Especially, people who are passionate about wine want to make sure that their wine is in the best possible condition for a long time. When you are opening up a wine bottle, you must keep the wine inside of the bottle away from air to make sure that the wine does not lose taste.
Wine stopper attachments do the job but vacuum sealers are even better. There are special kinds of vacuum sealers built to protect wine, oil, and vinegar. We mostly talked about the wine but the vinegar and oils have a similar lifespan and the process of keeping those used for a long time is similar too.
Protection from Corrosion
If you have metals in your home then you know the troubles that one has to go through with metals. The moisture and the air kill those from both inside and from outside. To make sure that your metals are safe for a long run,
you need to use a vacuum sealer. The sealer will save a lot of your time which you would have eventually invested in cleaning and washing the metal items. If you do not have metals in your home then you do not need to worry about these probably. On the other hand, if you have then this is a must item for you.
Resealing Cracker Bags, Chip Bags & Other Items
This is pretty basic to understand. The main purpose of vacuum sealers is to make sure that your product/bag or anything else is secured from the air. If you have a simple chip bag which is torn in a part and you want to make sure that the chips are not getting dumped,
you can use a vacuum sealer to make that happen. It is easy and it does not take much time. Similarly, if you have a regular bag and there is a whole or something similar on one end, you can again use a vacuum sealer to make sure that the whole is turned off properly.
Emergency Situations
The last on our list is the emergency situations. There can be a lot of emergencies and you need to make sure that you are prepared for those situations. What if there is an earthquake tomorrow in your location and your building is torn down to the bottom.
This is daydreaming yes, but this is true! This can easily happen and you will not have anything to do if this happens. The best idea is to prepare early. Simply store some dry foods using a vacuum sealer in every room of your house. You will need these in emergencies.
Also, if you are a traveler and if you move a lot, a vacuum sealer will help you in a lot of situations. You want to make sure that your passport and money is in someplace safe and a vacuum sealer can be that place for you.
Again, what if you are surfing or going to a beach? A simple vacuum sealer can save you from a lot of trouble. What if rain suddenly starts to fall while you are on the road? If you have a vacuum sealer, you can keep your wallet and cell phone safe in those situations.
Final Verdict
If you have been struggling for ways to keep food fresh, you need a vacuum sealer. As the reviews here show, they were developed expressly for this purpose and in the case of the Best Vacuum food saver, extend the shelf life of food for weeks or several months.
I recommend you give any of the vacuum sealers here a try as they have proven their worth in our tests and in several customer reviews.
As to which one is the most effective, that is a matter of personal preference, but one thing I can confirm is each one does an outstanding job keeping food fresh.